We're Here For You
Riverside Ford of Tulsa always puts customers first!
Don't take our word for it: Read our reviews and see what everyone is saying.
Very professional and respectful. Best buying experience I've had.
The management at Riverside Ford of Tulsa OK showed me that they stand behind their vehicles. Long story short we had a problem with a new car. They went out of there to correct the problem and have found a customer for life. By the way I live in Birmingham Alabama. That's right, they took care of everything from Tulsa OK. They could have told me it was my problem and take it to a local Ford dealership but they didn't. They arranged for vehicles to be taken back to Tulsa and resolved everything for me. Now I have my dream 2023 Bronco and have friends for life
I bring it in and expect quality. So far I believe I'm getting quality work.
Purchased 2022 F-150 Lariat from Riverside Ford, Tulsa, OK, their salesperson Donna was top notched. Definitely will refer to Riverside Ford
We had a great buying experience! I definitely recommend giving them a chance!
I recently purchased a 2023 Expedition XLT from Riverside Ford. I recommend Mr. David Hernández to anyone interested in purchasing an automobile. Professional, knowledgeable, and fully engaged while listening to my requirements regarding a new truck, Mr. Hernández is the best sales professional that I have had the pleasure of working with in many years. 5-stars to Riverside Ford.
They are very friendly and keep you informed on what is going on with your vehicle. Restroom is clean also
Larry was helpful and worked with me to get me into the car I've been wanting. I'm happy with the purchase and the service they provided.
We had a great experience with Riverside ford and salesmen Logan Ranger was very helpful and worked hard to get us a great deal on our Ford Bronco.
Riverside Ford sets the bar for a perfect customer experience. From the moment I began to inquire about purchasing a new vehicle Billy was responsive, kind, and extremely knowledgeable, not only about the vehicle itself, but walking me through the entire process. It could not have been a more seamless and pleasant process. Their attention to detail and my satisfaction was unparalleled- going above and beyond in every aspect!
Billy was on point from the beginning. He not only found the vehicle we wanted but the exact vehicle we have been searching for. He was first class from the beginning to finish. This is the second vehicle I've purchased with Billy.
I purchased a used truck and had a great experience. I experienced a professional level of knowledge, fair negotiation and great product.
The people at Riverside Ford are super nice. We had an amazing experience. No trying to cram things down our throats. Everything was our choice. We bought the most beautiful 2023 Expedition. I found it on the website and in under 10 minutes, we were sitting in her. We signed the papers and we were off. Garrett was super nice helping us with all the financial documents. Richie was so friendly and helpful. He showed us a lot of helpful tips about out new purchase. I was asked by several people there if we were being taken care of. We sure were and we are extremely pleased. That is why this makes our 3rd time in 9 years to come back and purchase new vehicles. We've never dealt with nicer people. Bravo Riverside Ford, consider us customers for life. We will definitely tell everyone we know. Thank you so very much.
They were great keeping us informed about the progress of our vehicle and very helpful in answering our questions
The service manager and service advisor were very knowledgeable and helpful. Thank you
We had Mr Chad Gleeson as our representative, and we couldn't be more happy with our experience! Chad was able to get us into a truck that my husband absolutely loves and has always wanted! This was our second vehicle from Riverside Ford and had the best experiences for both. Thanks to Chad and the rest of the team for great costumer service!!
Very good experience. Took the time to explain everything to me. I greatly appreciated this experience. This is two cars I have bought at Riverside Ford. They're very courteous and I cannot see going anywhere else. Thanks
Very helpful & professional with coordinating the sale & transport of my vehicle. Larry was very effective as my "hub of the wheel" 100% he definitely should receive 5 Stars.
Service department was Honest, straightforward. As good as it gets.
Hands down the easiest car purchase of my life! Everyone was super friendly and eager to help to get it done. Highly recommend!!
Since I moved to Oklahoma a year ago Riverside has been my go to for service on my F-150. The service team is professional, keeps me informed about my vehicles progress and has been great to work with. If your in need of work on your Ford this is the place to go!
As an out of state customer, of course I dealt with the dealership by text and phone calls. Since I have usually dealt directly with my local dealer, this was a first time for me. Due to the lack of inventory nationwide, I searched for and found what I needed at Riverside. As the conversation went back and forth, my end remained apprehensive and somewhat cantankerous, but on the other end, salesman David Hernandez stayed calm and helpful. Once I finally decided to buy, I drove the 100+ miles to the dealership, I met David and he made the in-person part of the deal an enjoyable time, as he was so helpful and pleasant. Every part of the buy at Riverside went great!
Amazing service!! Service was fast and fixed quicker than expected. I went to a different dealership and they said there was no problem, no leaks, and they heard no sound, even though I had video!! Then it got worse and I called them they kept transferring me back and forth between different people before I finally got an appointment scheduled. Felt like I got the run around and I was a bother to them all! I was the only customer in the area at the time! I was not happy so I decided to call around to see if I could get my 2020 Explorer in earlier somewhere else……well Riverside Ford pulled through for me. Had an appointment and it wouldn't go into drive so I called them and they towed it for me, looked at it Tuesday, had it diagnosed and parts ordered by Wednesday! Said 3-5 days for part to come in and voila part came in early got her back today!! Thank you again Vu (sorry if I spelled that wrong) and the rest of the crew that worked on my car at Riverside Ford of Tulsa!! ⭐️⭐️⭐️⭐️⭐️ Thank you so much!!
The easiest car buying experience I've had. Chad hit every box on my checklist. highly recommends
Awesome experience with Riverside Ford of Tulsa! Chad and Garrett did a great job helping me from start to finish. I bough my F350 platinum sight unseen from Michigan and it's perfect! They had it shipped up to me and they handled everything! I would definitely buy from these guys again!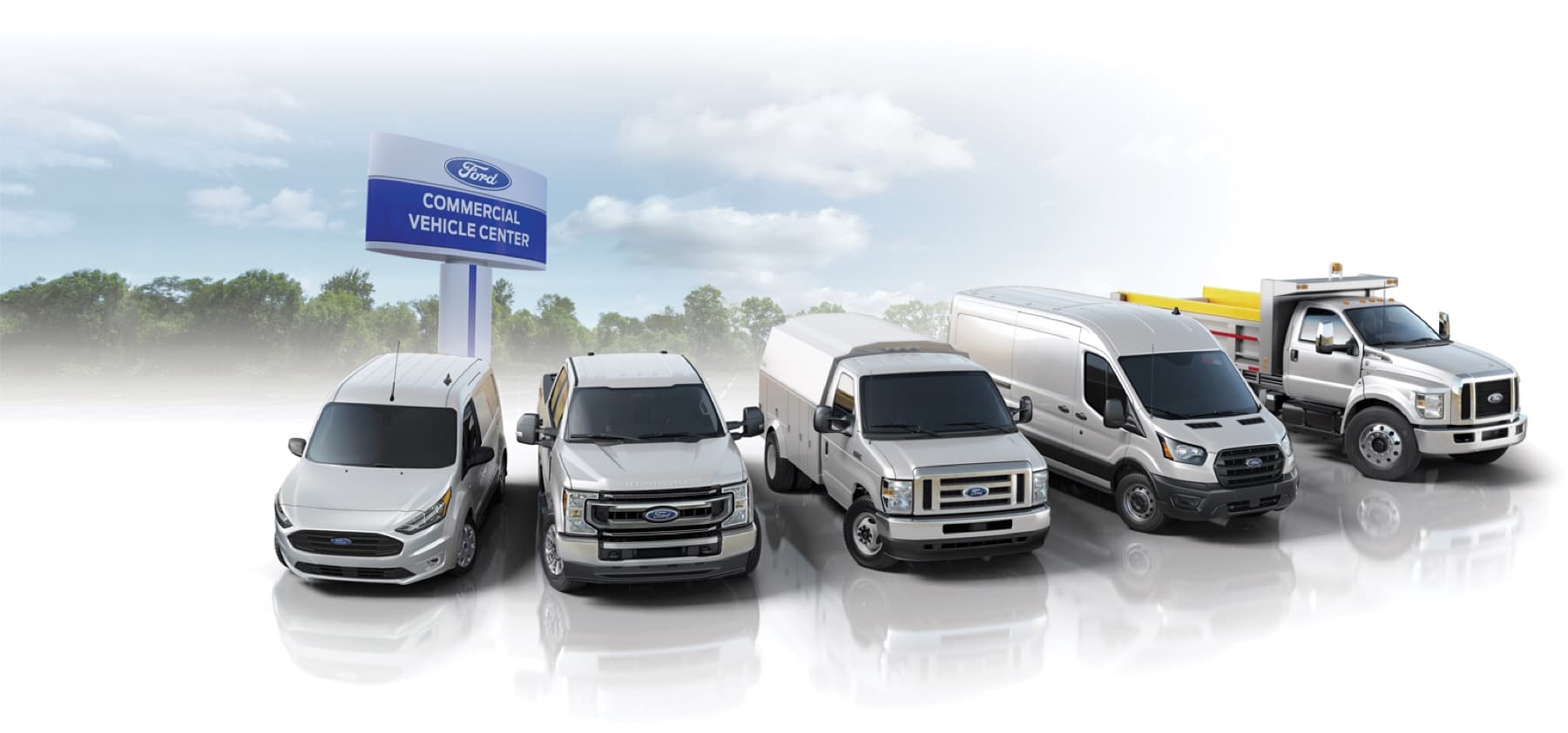 Built for the Road Forward
Your job has never been tougher. And we'll be here to help you keep working. Ford Commercial Vehicles are engineered to withstand the severity of everyday on-the-job duty.

Welcome to Riverside Ford of Tulsa Ford Dealer in Tulsa, OK
Ford cars are known for their dependability, which is part of what makes them so popular. Riverside Ford of Tulsa is the result of years of hard work and dedication that has led to this level of assurance.
We invite you to visit our Ford dealership, where you'll find a wide selection of new and used cars, as well as industry-leading maintenance and finance services. We're here to make your car-buying experience as simple as possible.
We offer a great catalog of new Ford cars for sale, including top models like the Ford Explorer, Ford Bronco Sport, and the Ford F-150 for sale in Tulsa, OK. If you aren't in the market for a new vehicle, we also have our used car dealership available for you to see, which has a vast selection of excellent vehicles.
Ford Service & Financing in Tulsa, OK
When you're ready, our finance center can give you all the information you need regarding flexible loan and lease choices. We also have a high-quality service center where you can get regular maintenance, body work, and other services. Be sure to check out our regular service coupons that can help you save on your next visit with us.
Whether you are shopping for something new, something used, or you need your current vehicle serviced, we are here to help. Visit our Ford dealership in Tulsa, OK to get everything you need today.
Contact Us