We're Here For You
Riverside Ford of Tulsa always puts customers first!
Don't take our word for it: Read our reviews and see what everyone is saying.
Leland was very professional and helpful in getting me shuttle service from the location to my home and back to pick up my car. I really appreciate it that in fact that they normally do not have shuttle services on a Saturday so I am a very satisfied customer to say the least. Thank you for your services.
Mike Charles was an excellent salesman, very engaged. Mike gave us pertinent information, welcomed questions, allayed all our insecurities with comfort and knowledge. From the finance department to the manager, the teamwork was outstanding:)
I got ran over next to that place
Chris made the buying process fast and easy. Definitely recommend this place.
It was friendly atmosphere and the facility was clean comfortable.the service was great . I will recommend you to other people
Tracy, Rivers, and everyone else in the service department made this the absolute BEST experience ever!! Tracy was amazing getting everything scheduled, coordinated, and kept me informed. Rivers answered all my questions and was just amazing across the board. The services were for recall items and they were still amazing
Jessica, above any other salesperson we have ever had we will definitely come back to Riverside for any further vehicle
Great experience and fast and friendly. No games and we enjoyed the car buying experience!
We love the truck, and Chad made it very easy to get it, thanks, Chad
Rodger Stevens was extremely helpful and efficient! I appreciate him taking the extra effort to insure I was taken care of in a timely manner.
My experience with Riverside Ford of Tulsa and Logan Ranger were phenomenal. I never felt pressured during the car buying experience and everyone was so incredibly helpful and willing to answer any questions I had.
Friendly, courteous, professional. Chad is a class act. Great doing business with you. Will definitely call Chad next time I need a vehicle.
Working Chris Mcclintic at Riverside Ford was great. Chris helped me order a new 2024 Mustang GT Convertible and kept me updated over the weeks as it progressed through the Ford factory and then to the dealership. MJ is a real professional - I recommend these two highly.
If I could rate higher than 5 I would, let's just say 10 out of 5! From the get-go, Abe was one of the most friendly and professional salesmen I've ever had the pleasure of dealing with. I came from out-of-state to make my purchase and Abe did everything to make it as stress-free as possible; doing a walk-around with video and photos of any and all blemishes so I knew 100% what I could expect once arriving. Once I got there, he continued this and made my purchase one of the most painless car buying experiences one could hope for. All in all, I was in and out of there in less than 2 hours. MJ the sales manager was also super friendly and was a pleasure to talk to as my deal was being made. Garrett made the finance part super easy and painless too! All-in-all, if I could buy every car from now on from the staff at Riverside Ford Tulsa, I would. They say they operate as a family and I could tell; the atmosphere was light and playfull but also very professional. HUGE shout-out again to Abe, MJ, and Garrett, thanks for taking the time to help a guy out! Best wishes to you all!! Note: I never leave reviews, but when I do, I mean them sincerely and it's either 100% awful or 100% wonderful. This one was WONDERFUL
When I walked into the dealership, I did not feel pressured. Very relaxed atmosphere, and everyone was willing to help. I will shop there again.
Have ordered two trucks from here, great service, and did not have to deal with inflated prices.
Absolutely the best bunch to deal with. Otis makes everything transparent and no messing around. Everyone super helpful and easy to deal with.
Great people to work with friendly and helpful in every way They got me set up for my build order and completely set me up when my truck arrived Wow! 29days from order to delivery Thank you all at Ford Motor Company!!!
Very easy to work with. Everyone friendly. Jessica was very knowledgeable about the car I purchased. Appreciated the full gas tank with gas prices these days. I will be referring people there.
I met Chad when I traded my Jeep Wrangler in for a Subaru Outback back in 2011. After haggling a bit over my trade-in value, I walked away with a brand new Outback and a great new friend. My husband and I haven't bought a car from anyone else since then and I believe the Bronco is # 10 or 11. What can I say, I like new cars. So, I came for the car and kept coming back for the friendship. If you're looking for a car, go hang out with Chad, he'll treat you well and you'll have a great time in the process.
Chad was alot of help and did a fantastic job! Definitely highly recommend him! Everyone at riverside ford was wonderful!
Excellent service , transaction. The bonus was my vehicle delivered to my door promptly, very happy with the vehicle.
Harrison did a great job of getting me scheduled quickly and notified me when it was ready to pick up.
Everyone was helpful explaining the process of repairing my vehicle. They kept me up to date, and did exactly what they said they would do. Even repaired my vehicle quicker then expected. Thank you!!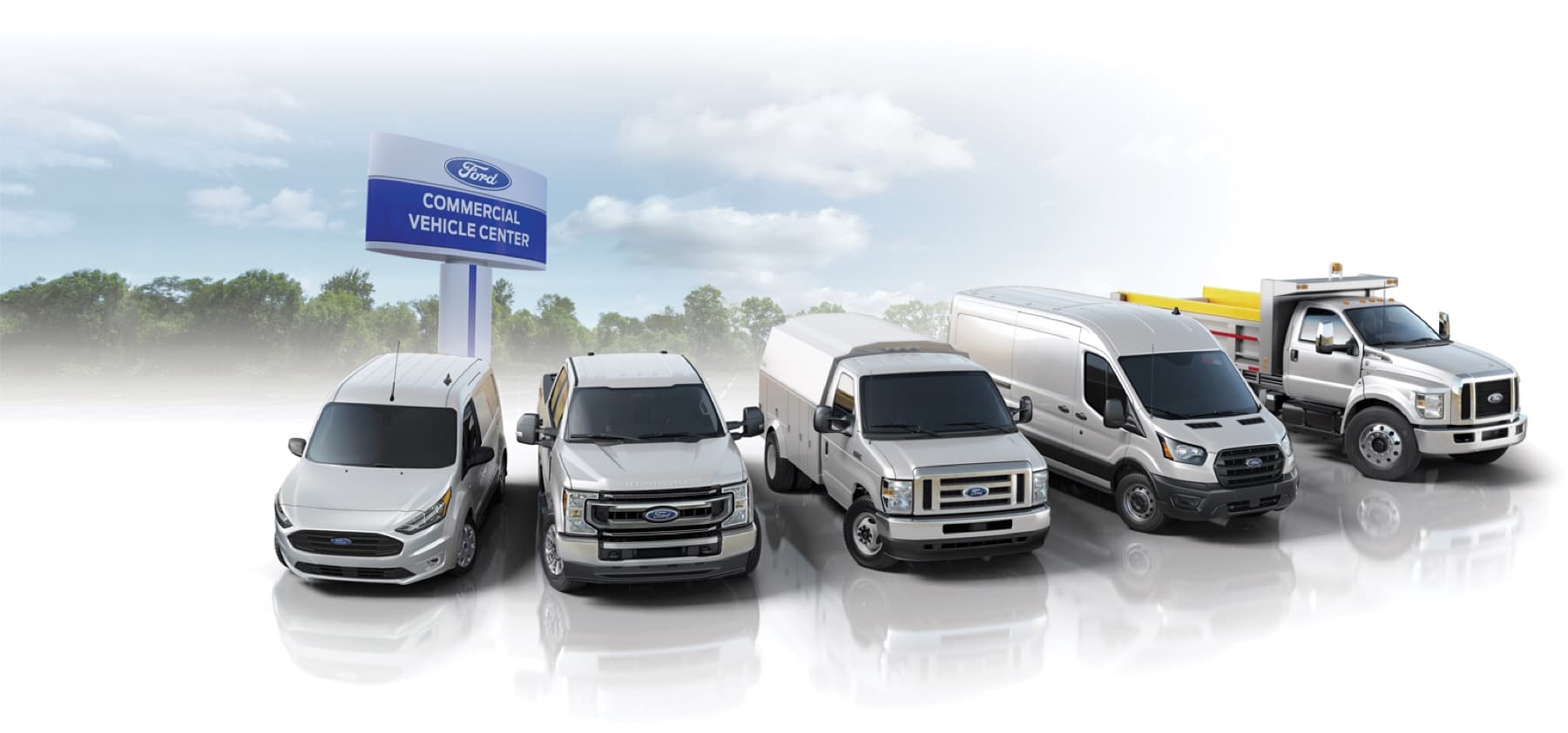 Built for the Road Forward
Your job has never been tougher. And we'll be here to help you keep working. Ford Commercial Vehicles are engineered to withstand the severity of everyday on-the-job duty.

Welcome to Riverside Ford of Tulsa Ford Dealer in Tulsa, OK
Ford cars are known for their dependability, which is part of what makes them so popular. Riverside Ford of Tulsa is the result of years of hard work and dedication that has led to this level of assurance.
We invite you to visit our Ford dealership, where you'll find a wide selection of new and used cars, as well as industry-leading maintenance and finance services. We're here to make your car-buying experience as simple as possible.
We offer a great catalog of new Ford cars for sale, including top models like the Ford Explorer, Ford Bronco Sport, and the Ford F-150 for sale in Tulsa, OK. If you aren't in the market for a new vehicle, we also have our used car dealership available for you to see, which has a vast selection of excellent vehicles.
Ford Service & Financing in Tulsa, OK
When you're ready, our finance center can give you all the information you need regarding flexible loan and lease choices. We also have a high-quality service center where you can get regular maintenance, body work, and other services. Be sure to check out our regular service coupons that can help you save on your next visit with us.
Whether you are shopping for something new, something used, or you need your current vehicle serviced, we are here to help. Visit our Ford dealership in Tulsa, OK to get everything you need today.
Contact Us