We're Here For You
Riverside Ford of Tulsa always puts customers first!
Don't take our word for it: Read our reviews and see what everyone is saying.
Vue in the service department is amazing. The whole service department is kind & helpful.
Outstanding Customer Service on every visit and service, I do on my truck.
The entire buying experience was great. Jessy, my salesman, was the best, and I love my Badlander!
Great people with awesome staff who cares for their customers when purchasing their vehicle of choice.
Matthew does a superb job at being a service manager. He is very professional and helped me and my wife as much as he possibly could. Thank you.
Cruce handled my vehicle recall in a professional and fast manor, I would definitely recommend Riverside Ford to a friend!
Great dealership. Everyone there is super nice. David Hernandez was the best car salesman I've used.
They got it in and out in a few hours for oil change and a recall. Cruse was our service rep and he kept me informed.
I Highly Recommend Jessy Guzman as your Trusted Salesman when you purchase your New or Used Ford. I ordered a Brand New 2022 Ford Maverick Off Road Fx4 and Jessy was with me all the way through the complete Purchase. He was Knowledgeable about all Ford Trucks and helped me narrow down to the right truck for me. I Love my Ford Maverick and I'm averaging 33 Hwy/27 City on gas. Better than was expected on the sticker. This is my 4th vehicle I've purchased from this Riverside Ford of Tulsa location because of their Sales and Service Depts. They take great care of me and my Vehicles. Thank You Jessy and Riverside Ford of Tulsa.
Nice people to do business with. Larry Young is a super nice guy. Actually called me to tell me a truck had just came in like he said. I was sitting down doing paperwork at another dealer buying a used truck I didn't want when he called me. Lots of great help from the guy with Ford Factory approved mods I had done also. I'd buy my next ford here also.
Jessy was great to deal with at riverside ford of Tulsa thank you so much!
Really excellent experience even with all the current challenges buying a car
Very easy to deal with I didn't feel like was pressured or getting screwed over in any way. It was a pleasant experience and I have never said that about a dealership before!
He worked hard to make sure I got the right vehicle I wanted. We went threw multiple trucks before I found the correct one.
Logan has sold me three cars now. All three purchases were quick and easy. Told him what I wanted, and got me in those cars every time. If you want a salesman that's going to work to get you in what you want, go to Logan!
Great vehicle demo. Made sure i knew how all functions worked before I left. Awesome salesman.
Everything is clean and the folks there are always friendly and helpful each time I visit the dealership.
Couldn't have asked for better service. We had ordered our bronco & although it took a while ( no fault of the car dealership) it came exactly as ordered. We were notified it was there and the price was locked into the price we ordered it at so no mark ups even though the cost had risen. Would highly recommend riverside ford as well as Charles & Ritchie. They were no hassle, no pressure & had great communication
I had a issue with my cars a/c not working I dropped it off and the service advisor said it was going to be 3 days before it could get into the shop to get checked out and by mid day on the 4th he called to let me know it was ready for pick up. The young man at the service desk was very polite and courteous I had said we didn't buy the car here but I couldn't get it in to the dealership I had bought the car from for weeks and asked if they could look at the problem and he of course but they had a 3 day waiting period due to there scheduling 3 days is a far cry from 2-3 weeks at Bill Knight Ford so I've got another car need's some warranty work done instead of waiting on the other dealer to get it in I'm taking my cars to Riverside Ford for a great ford experience
Otis and Chad were great in wrapping up my purchase of my new Bronco. i will make the switch from Fowler to Riverside. i'm looking forward to having Riverside mod out my new Bronco.
Excellant service....took car in on a Saturday about an hour before they closed with broken belt. They didnt have a belt there but Cruce Smith and Bryce Smith went ahead and found a belt locally and put it on for us....Best part is the didnt take advantage of our problem and over charge us which would have been easy to do. They knew we were from out of state and just passing through and gave us the red carpet treatment instead of taking advantage of us.....very honest service dept....thanks for all you did
Great sales department. This is my 2nd vehicle I purchased from Riverside, awesome experience once again!
I ordered a new vehicle from them and had a great experience. From sales, parts, financing. I would recommend them to anyone.
Thank you Ricky Bennett and Mike Charles for making the buying process easy and fast. If you want a quick, easy, no run around buying experience, then go see these guys!
Everyone was very friendly and helpful when I bought my new Explorer. There were no surprises....the whole process went just as they said (except my vehicle arrived a couple of weeks early!!)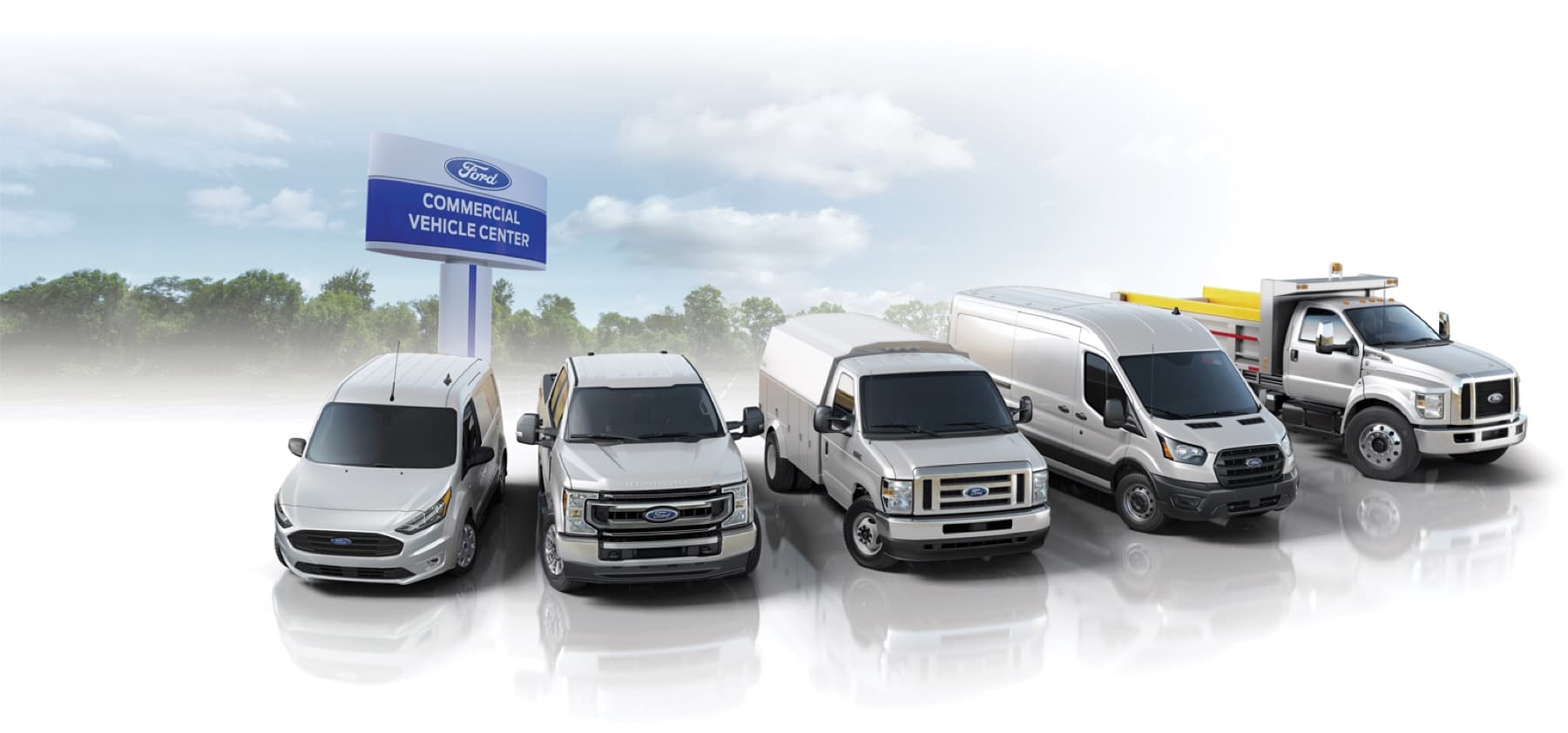 Built for the Road Forward
Your job has never been tougher. And we'll be here to help you keep working. Ford Commercial Vehicles are engineered to withstand the severity of everyday on-the-job duty.

Welcome to Riverside Ford of Tulsa Ford Dealer in Tulsa, OK
Ford cars are known for their dependability, which is part of what makes them so popular. Riverside Ford of Tulsa is the result of years of hard work and dedication that has led to this level of assurance.
We invite you to visit our Ford dealership, where you'll find a wide selection of new and used cars, as well as industry-leading maintenance and finance services. We're here to make your car-buying experience as simple as possible.
We offer a great catalog of new Ford cars for sale, including top models like the Ford Explorer, Ford Bronco Sport, and the Ford F-150 for sale in Tulsa, OK. If you aren't in the market for a new vehicle, we also have our used car dealership available for you to see, which has a vast selection of excellent vehicles.
Ford Service & Financing in Tulsa, OK
When you're ready, our finance center can give you all the information you need regarding flexible loan and lease choices. We also have a high-quality service center where you can get regular maintenance, body work, and other services. Be sure to check out our regular service coupons that can help you save on your next visit with us.
Whether you are shopping for something new, something used, or you need your current vehicle serviced, we are here to help. Visit our Ford dealership in Tulsa, OK to get everything you need today.
Contact Us